It was an early sunny morning
hot and humid.
In a village,
nears the Plain of Esdralon,
which called Nazareth
a small town in the mountains of Galilee.
It's a quite noisy town,
Nazareth served as a central market place
for the surrounding areas
and agriculture is served
as the main business.
The town wakes up
every morning with noise and dust
donkeys clutter around the town,
ready for another day
transporting goods and stuff.
Chickens crow morning hello
breaking silent.
People start a new day,
men leave their houses
begin a new day laboring.
Some of them are farmers,
who spend all day long in the farm,
under the sun, sweaty and weary;
their skin tanned and dried.
Some others in town are artisans,
going back and forth,
cater to the needs of the farmers.
There was a teenager of rural Galilee,
Mary, born to Joachim and Anna,
and was engaged with Joseph,
a son of Jacob.
Like other families in town,
Mary lives in a small house
of stone and mud-brick.
As any other young girl
Mary has to do her daily chores:
going back and forth
to the village well
carrying a jar of water
for the household using,
grinding wheat and barley in to flour,
feet a few chickens in the back yard,
preparing meals with beans, nuts, eggs
and occasional chunks of mutton.
Woven wool into clothing,
baking bread for supper.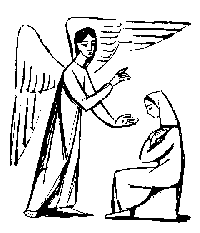 That morning,
Mary was doing chores
as she supposed to do every day.
An angel named Gabriel
was sent from God,
having taken the figure and the form of man,
came into the house
and greeted her:
"Hail, favored one!
The Lord is with you."
Mary was deeply troubled
since she was confuse of the saying
what could it mean?
She has been living in this town,
and had never heard of this greeting.
Gabriel was filled with God's spirit,
went on in explain:
"Do not be afraid, Mary,
for you have found favor with God."
Mary raised her eyes
while hearing the proclaim of God favor.
"Behold,
you will conceive in your womb
and bear a son,
and you shall name him Jesus."
Mary could not stop surprising,
though she listen to Gabriel,
she has not yet understood.
Gabriel got close to Mary,
tried to go on:
"He will be great
and will be called the Most High,
and the Lord god will give him
the throne of David his father,
and he will rule over the house
of Jacob forever,
and his kingdom has no end."
Glanced her eyes through the window,
Mary knew that it was not a dream.
The sun is lighting a ray through the window
and the donkeys from upper town
are going down to the market place,
Mary consisted that it was day,
and that was not a dream.
In that awaken,
Mary asked:
"How can this be,
since I have no relations with the man?"
Though Mary had been engaged with Joseph,
regards in the traditions at that time,
betroth means promise of marriage;
she is virgin
and lived with her parents.
Removing Mary's anxiety
and doubtful,
angel Gabriel assured Mary:
"The Holy Spirit will come upon you,
and the power of the Most High
will overshadow you.
Therefore, the child to be born
will be called holy, the Son of God."
To ensure of God's grace
and his providence
to people of Israel,
the angel pronounced:
"and behold,
Elizabeth, your relative,
has also conceived
a son in her old age,
and this is the sixth month
for her who was called barren;
for nothing will be impossible
for God."
Mary was full of joy
and all of her doubtful has gone,
clinging into God's message
which proclaimed by his messenger,
she knew this has be done
though she realized her lowly class
and an empty treasure
God's love has conquered all
and he wanted to incarnate
among the lowly
for them to draw his salvation
and be saved.
This love from God
has blessed Mary's
to be a chosen one
to collaborate.
Mary may not yet
neither have fully understood
truly meaning
of this message from on high
nor foresee
how the maternity might have been
but since this moment
transcendent
of the Holy Spirit
has moved her belief
and has touched her soul
with joyous
and gladness
to praise God:
"Behold,
I am the handmaid of the Lord.
May it be done
to me
according to your word."
Nazareth definitely
was unaware of this visit.
The town still moving
as one day likes another.
People still not realize
that the Lord
is near to come and live
not too far
and not too out of life
but among them.
Nothing has yet changed
the sun still shines on the farm
and farmer got sweaty
dust screw up on the road
donkeys tiredly moving heavy loads.
Mary came back to her chores
A daily routine she has to get done,
but with a touched soul,
which moved by God's mercy.
The Word of God
made flesh in Mary's womb,
yet people from this small village
saw nothing.
Mary's magnificent
has brought God's plan
into action.
The aroma of fresh fleshing
filled the small stone and mud-bricks house.
And God's spirit rejoins within Mary,
a teenager of the small village Nazareth,
an betrothed of a carpenter Joseph.
All nations and peoples
long to see the Lord.
Through Mary's womb,
God comes
save his people
with salvation
and to begin
new historic generation
God is among us.
O come,
Emmanuel!
Joseph Dao, S.J.