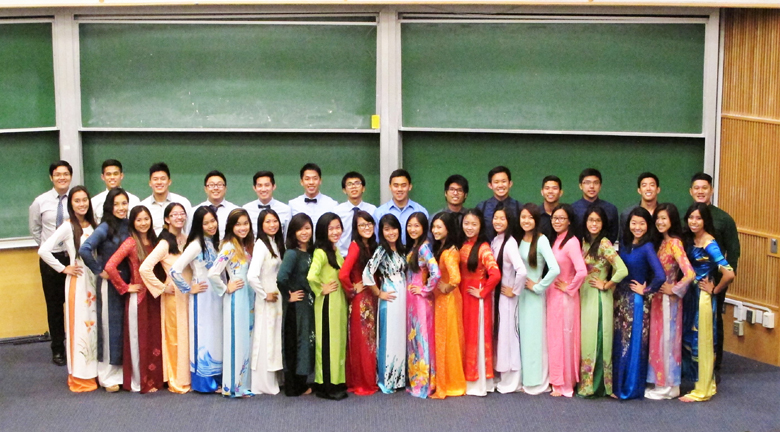 Back Row from Left: An Vu, Brandon Nguyen, Johnny Nguyen, Alex Pham, Austin Quach, Jason Pham, Minh Vo, Kien Tran,
Andrew Dinh, Anthony Tran, Peter Bui, Johnathan Tran, James Tran, Kevin Tong
Front Row from Left: Hannah Bui, Rachel Nguyen, Tammy Nguyen, Minerva Escobar, Heather Ho-Le, Kristin Nguyen, Sophia Ngo,
Anna Tran, Thao Dao, Theresa Duong, Christine Pham, Christine Ngo, Michelle Tran, Nicole Nguyen, Theresa Tran,
Jenny Pham, Trisha Tran, Claudia Nguyen, Kaylee Dao, Joanne Do, Julia Nguyen


Nhóm Hạt Cải-Mustard Seeds
Irvine, California

Our History:
Hạt Cải was formed in 1985 by several college students who wanted to continue to nurture their relationship with God after attending a Linh Thao retreat. Hạt Cải is a spiritual support group for college students who come together as one to help each other find God through community, spirituality, service, and support for one another. Our group is centered on Saint Ignatius's spiritual exercises, which help us realize and appreciate God in our daily lives.

Inspiration:
"I tell you the truth, if you have faith as small as a mustard seed, you can say to this mountain, 'Move from here to there' and it will move. Nothing will be impossible for you." (Matthew 17:20)

Activities:
Our main goal is to integrate God in our lives as we become more busy each day as young adults. Each week we have hosts who choose a passage from the Bible and create Faith Sharing Questions according to a weekly theme. We meditate on these and share about our prayer experience and spiritual life. Additionally, we finish our meetings with the Examen of Consciousness to finds the blessings that God provides for us, while strengthening our relationship with Him. We also want to connect with Đồng Hành by participating in any retreats or events so that we can grow as a community with God.

Prayer for Hạt Cải:
Please pray that God provides us His guidance so that we can learn to walk humbly. There are many of us who are still discerning our paths in life, and we wish to move according to His will.
12-2015